December 2015 Newsletter
Welcome! We hope you enjoy this update on the events we've hosted since the start of our season in September 2015. Our quarterly newsletter keeps you informed about our events if you are not able to attend, and is also an opportunity to share the information and photos with friends, family and colleagues.

Enjoy!
63rd Annual President's Ball


Our annual President's Ball was an extraordinary evening of celebration and achievement, honouring community, tradition and excellence.
As always, the focal point of our gala celebration, sponsored by Scotiabank, was to honour exceptional individuals or groups in our community with Awards of Excellence. Congratulations to this year's award recipients, Nick Di Donato, John Lettieri, Vivian Risi and Andrew Mizzoni. Thank you for your unique contributions to your industry. Each winner was kind enough to share their experience with us on the following videos:
President's Ball 2015 Highlights
Congratulations to our 63rd President's Ball President's Award Winner:
Nick Di Donato
Congratulations to our 63rd President's Ball Next Generation Award Winner:
Andrew Mizzoni
Congratulations to our 63rd President's Ball Community Leader Award Winner:
Vivian Risi
Congratulations to our 63rd President's Ball Business Excellence Award Winner:
John Lettieri
Thanks to CHIN TV for our 63rd Annual President's Ball video!
Before the awards, our gala evening sponsored by Scotiabank began with a cocktail reception, sponsored by TD Bank, in the foyer of the gorgeous and newly constructed Universal EventSpace hosted by our venue sponsor byPeterandPauls.com. Guests mingled, enjoyed wine sponsored by Roy Foss Cadillac Woodbridge and RBC Royal Bank and visited appetizer stations as well as the silent auction, all while enjoying the background tunes of the live jazz band sponsored by CIBC.
Once everyone was seated for the dinner reception, our Mistress of Ceremonies, Andrea Trentadue, Host of CHIN TV's Festival Italiano di Johnny Lombardi kicked off the evening's festivities. A beautiful rendition of both the Canadian and Italian national anthems was sung by Charlene Esposto, honoured our proud heritage as did the heartwarming speeches from each of the award recipients. After the multi-course dinner, guests enjoyed the entertainment of Saturday Night Jive, sponsored by CIBC and at the end of the night enjoyed a mid-night snack and dessert buffet.
This event would not have been possible without the support of our Sponsors, Gala sponsor - Scotiabank, Cocktail Reception sponsor - TD Bank, Entertainment sponsor - CIBC, Venue sponsor - byPeterandPauls.com, Wine sponsors - RBC Royal Bank and Roy Foss Cadillac Woodbridge, Official Airline Sponsor - Air Canada for their contribution to the live auction, as well as Spin Kicks Cycle & Fitness. and Frank Ciccolini from Masters Insurance. Thank you to the President's Ball organizing committee, CIBPA staff, volunteers and especially Co-Chairs Nino Pasquariello, Frank Strippoli and Executive Director Diana Panacci, for their tireless work, and to our Honourary Chairs, Lenny and Grace Lombardi, long-time CIBPA supporters.
Finally, thank you to all our honoured guests for attending and sharing this special evening with us.
Please visit our photo album for the event HERE. We look forward to seeing you next year!
Grazie,
Eddy Burello, CIBPA Toronto President
2015 Season Kick-Off

The CIBPA Toronto welcomed back friends and members for another exciting season!
This dinner meeting was an opportunity for members to reconnect from our summer break over a great meal, network with members and guests of our business and professional community and build future business relationships. The audience also heard about the exciting calendar of events the CIBPA has planned for 2016.
Please visit our photo album from the event HERE.
CIBPA Education Foundation Bursary Awards Dinner 2015

Deserving students selected by the CIBPA Education Foundation committee, chaired by Foundation President, Mr. Robert Sacco were recognized for their academic achievements.
The students selected had the opportunity to thank and receive their financial support from the generous donors that participated at the 2014 President's Ball.
A special thank you to our guest speakers, Teresa Cascioli and York University Professor, Dr. Ananya Mukherjee-Reed. Teresa spoke about the importance of Education and taking care of your finances. Teresa has recently published a series of children's books called M is for Money. Dr. Mukherjee-Reed congratulated the selected students and thanked the CIBPA Education Foundation for their continued financial support to past, present and future students.
The goal of the CIBPA Education Foundation is to support the academic achievements of young Canadians of Italian heritage or in Italian studies.
Please visit our photo album for the event HERE
2016 BURSARY INFORMATION
The CIBPA EDUCATION FOUNDATION Bursary is open to full-time college and/or university students at the undergraduate, graduate or postgraduate levels who are Canadian citizens or Landed Immigrants permanently residing in Canada, and are of Italian origin. It also provides assistance for students who are not of Italian heritage, if they are pursuing curriculum majors in Italian studies.
DO YOU KNOW A STUDENT WHO CAN BENEFIT FROM THE CIBPA EDUCATION FOUNDATION?
Applications for 2016 scholarships HERE will be accepted after August 30, 2016.
Traditional Christmas Dinner 2015

CIBPA Toronto came together with members and guests in the spirit of Christmas. The CIBPA also extended an invitation to the residents of Villa Colombo, which they look forward to every year. The evening was filled with food, laughter and great conversation as the talented Tony Astri played his accordion for us throughout the evening. The silent auction provided by Toronto Professionals Inc. gave guests an opportunity to purchase Christmas gifts.
We also took the opportunity to welcome new members to the association: Giorgio Mitolo from Freccia Communications Consulting, Daniel Morello from Decorum Ceramic & Marble Inc. and our newest Corporate Member - Franco Tagliacozzo from Amica at Villa Da Vinci, Welcome to the CIBPA!
A special thank you to everyone who contributed to the raffle. Proceeds have been donated to the Children's Wish Foundation of Canada.
Please visit our photo album for the event HERE
2015-2016 SEASON
JANUARY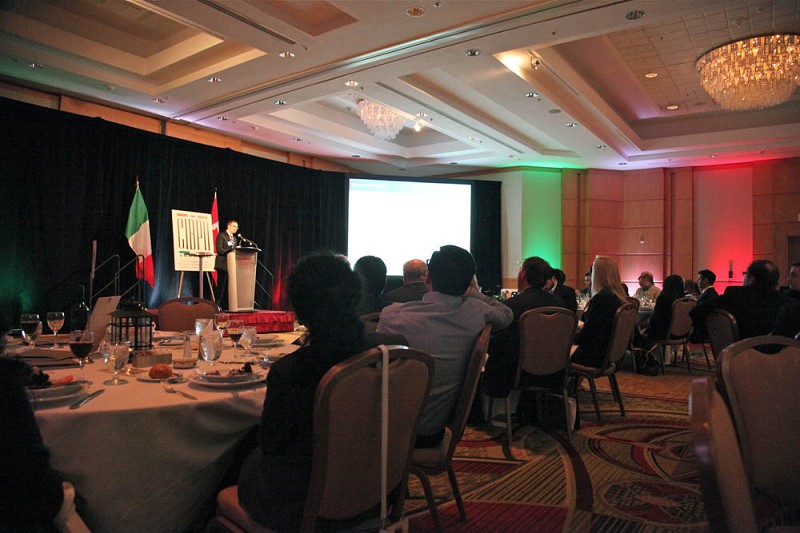 Theme....Business Owner's - Pay Yourself First
Thursday, January 21, 2016 from 6:00pm-9:00pm
Networking 6:00pm-6:45pm
Dinner 7:00pm SHARP!
Presentation 7:30pm
Location - Riviera Parque, 2800 Highway 7, Vaughan
Cost: Members $65.00 Non-Members $85.00
Cost includes: sit down dinner, wine and presentation.
CIBPA Toronto will welcome subject matter experts to grow and protect your business. Topics of discussion are:
How to protect you, your family and your business
Your responsibility as an employer
Preparing your business for sale (succession planning/exit by design)
How will the new Liberal government Federal budget affect you?
FOR DETAILS AND TO REGISTER FOR ALL FUTURE EVENTS PLEASE VISIT THE EVENTS PAGE ON OUR WEBSITE
Membership/Social Media

NOT A CIBPA TORONTO MEMBER YET?
Register today for full access to membership privileges and to further connect with our strong community!
CONNECT TO OUR SOCIAL MEDIA OUTLETS Twitter - LinkedIn - Instagram - Facebook - YouTube