$2 Million Campaign – June 2023 Update
$1,208,000 distributed to 1,058 students - Only $792,000 left to go!
The CIBPA has always viewed education and community service as the road map to a better career and life in Canada. The CIBPA took on this challenge by helping with community-based fundraising for charitable causes and providing bursaries and scholarships to Canadian Italian students so they could get the head start required to prosper as Canadians.
On September 8, 2011, Mario Paura CIBPA Toronto President and the CIBPA Education Foundation launched an official campaign to expand our education outreach program. The purpose of the campaign was to strengthen and continue our commitment to supporting the future leaders of our community and to reach a cumulative total of $1 million for bursaries and scholarships as well as increase the number of named endowments at Universities and Colleges. In 2021 we exceeded that goal by $66,000 and set a new goal of $2 million.
Since the start of our program the Foundation has distributed or set up endowments estimated at $1,202,000 for CIBPA bursary or scholarships to over 1,056, students. The total endowment accumulation of $620,619 established or pledged will provide deserving student bursaries in perpetuity. The university provided endowments distributed an additional $14,000 directly to 10 students in 2022 and additional similar distribution is estimated for later in the Fall of 2023. We are now well on our way to our new $2 million target.
York University - 20 Year Partnership of Giving
The CIBPA Stewardship Report from York University "A 20 Year Partnership of Giving", provides a great historical record of our foundational partnership with York University. I want to quote from the report and provide addition information on new initiatives at York.
CIBPA / York University Partnership
"For over 20 Years, the CIBPA Education Foundation has created the facilitation of 25 unique Awards at York through over $300,000 in donations including many with leveraged matching opportunities from the provincial government and other sources. This has resulted in an overall impact of nearly $600,000 that has been used to set up student awards at York. In addition to 20 years of awards established at York, approximately $107,000 has been delivered directly to York students as direct bursaries from the CIBPA. Total impact for York students has exceeded $700,000"

Lucy Iacovelli Invests in Women Mentoring

"CIBPA member Lucy Iacovelli had made multiple investments in York University students over the past few years. In addition to establishing the CIBPA Lucy Iacovelli student Award, Ms. Iacovelli also invested in last years to York's Advancing Women's Program. This amazing alumni mentorship program links the upper year students with successful York alumni, while also providing professional development opportunities and scholarship for each student. Ms Iacovelli' s very generous contributions to the Advancing Women Scholarship Fund, along with those other donations, helped ensure that every student in the program was able to receive a $1,000 scholarship".
Mr. Frank Ciccolini Sr. Endowment at York University
On March 26, 2020, the CIBPA Education founder and first President, Mr. Frank Ciccolini Sr. passed away. To honour his memory, the Foundation and York University has created a Frank Ciccolini Sr. endowment with the Mariano A. Elia Chair in Italian Studies. A $20,000 donation will be awarded to Rosaria Moretti-Lawrie for 2023.
Report on Named CIBPA University Endowments - 2023
York University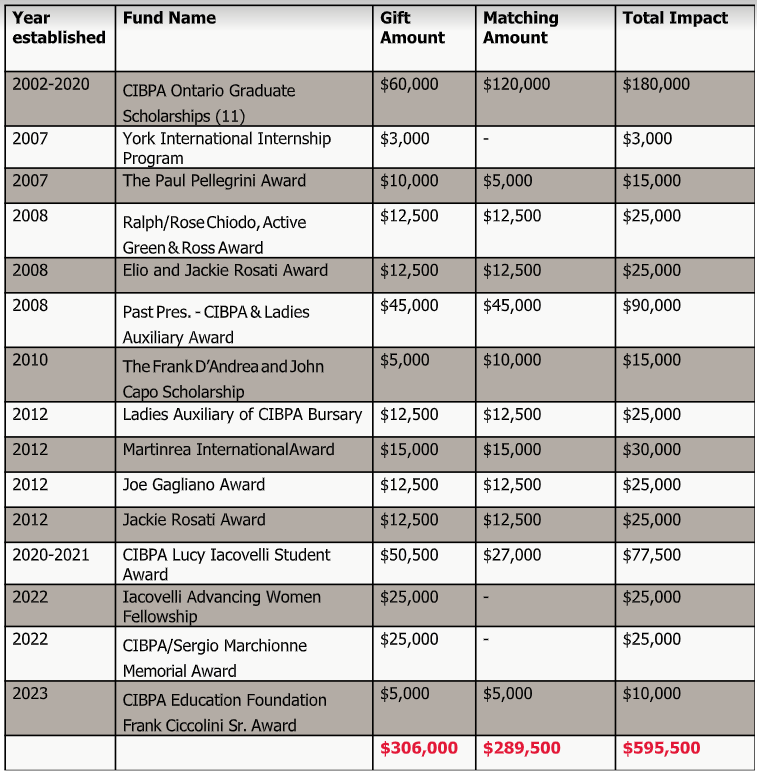 Ryerson University - $50,000
Ralph and Rose Chiodo / Ted Rogers School of Business Management for Entrepreneurship Endowment $50,000.
University of Toronto - $100,000
Mario and Silvana Paura - $25,000
Robert, Kathy & Vanessa Family Trust - $25,000
Ralph & Rose Chiodo - $25,000
John Mandarino, LiUNA Canadian Tri-Fund - $25,000
*University of Toronto will match the accrued yearly interest under this program
George Brown College - $20,000
Lucy Iacovelli - $20,000 for the Culinary Arts Program for augmented learning
2023 BURSARY INFORMATION
The CIBPA Education Foundation Bursary is open to full-time college and/or university students at the undergraduate, graduate, or postgraduate levels who are Canadian citizens or Landed Immigrants permanently residing in Canada and are of Italian origin as well as students who are not of Italian heritage but are in Italian studies or any other student in financial need.
DO YOU KNOW A STUDENT WHO CAN BENEFIT FROM THE CIBPA EDUCATION FOUNDATION?
These bursaries and scholarships do come with strings attached. Our expectation is for these students to stay in touch with the CIBPA. As CIBPA student alumni we hope that, with personal prosperity, that they too will financially contribute to the Foundation to help a student in need. I have had the privilege of reading letters from past recipients and can assure you that we are making a difference.

Applications for 2024 scholarships will open later in the year. Check back for updates.

If you are interested in learning more about the program or would like to contribute, please call the CIBPA Toronto office at 416 782-4445
Bob Sacco, President CIBPA Education Foundation
Stan Cappadocia, EVP CIBPA Education Foundation